"I Got Space to Spread My Wings" – Interview with Andrea Gere
2022.06.01.
The name of Attila Gere will probably ring the bell with anyone who is at least somewhat familiar with the world of Hungarian wines. One of the most prominent representatives of the Villány winemaker generation active since the 1990s, the farms a land of 75 hectares today – 100% organically –, and his portfolio is completed by a hotel with wellness services (Crocus) and a restaurant offering quality dishes based on local ingredients (Mandula).
A few years ago, the winery changed its image as well as its name: now the wine labels have A. Gere instead of Gere Attila Pincészete. The name change is more than symbolic. Attila Gere has been working together with his daughter Andrea Gere for quite a few years. We asked her about this cooperation, her role in the enterprises linked to the family name, and the cosmetic products branded with her own name.
How is your life nowadays?
I have a two-year-old son and a three-month-old baby, so currently I'm mostly at home with them – but I also work. Now my husband takes care of many tasks instead of me, but I always participate in decision-making as the head of the company, and I'm also involved in the cycle of everyday life.
What is it exactly that you do at the winery?
As the head of the company, I fulfill a range of different roles: I have a say in strategic decisions, future developments, ideas, and I also take part in making wine compositions and blends. For us, it is of utmost importance that the style of the wines remains unchanged: Gere wines should stay as people know them. We strive to follow through with this consistently with continuous fine-tuning and polishing. We have a winemaker and a grape producer, but we don't let go of this process. In the same way, there is a head of our hotel and our restaurant, but we still keep an eye on these things as well, so that everything works at the niveau it is meant to. Nowadays, I can visit the grape plantations a bit less frequently than I would like to, so I miss it a little – it's mostly my father and husband who take care of it.
How did you come to the idea of getting involved in the family business? Was there a time at all when you had a different vision of your career?
My response is that if I had known this would be my path, I would have studied to be a grape producer and a winemaker. But this is not how it happened. When I first made a career choice, I didn't know what life would bring or what I really wanted. I liked what I had here at home, I liked this enterprise, but I didn't want to pave a way and lose my different options for the future. I was also kind of scared of working together with my parents, as it is different when you must confront someone with whom you are emotionally involved. Finally, I obtained a degree in economy, despite the fact that I considered this field quite dull from the start. Besides my studies and later in my job, I helped the family enterprise remotely from Budapest: I translated texts for the website, I made wine descriptions, I took care of English-related tasks. Finally, after working in Budapest for two years, I decided to return home. Here I could easily find my place in the system: I saw that I was needed in the aspects of the company that my parents were not so good at, such as marketing and communication. I haven't regretted this decision ever since. I think this is the most beautiful job in the world.
Let's go back to an earlier time. Do you remember how your relationship started with grapes?
We have grown into it. It all started when my parents received a small vineyard as a wedding gift from my grandparents. Both of them had full-time jobs, but they went out to the vineyard when their working hours were over. So when we were babies, we were put out to the end of the vine row. Later on, when we were more significant, we also helped out there. We did whatever needed to be done: green pruning, bottling – back then, by manual bottle fillers – or labeling in the garage. Our parents even said that we would go to Lake Balaton on holiday only if we completed our tasks. I also went to our boarding house – the predecessor of our hotel in the 1990s – to clean rooms or serve breakfast or whatever needed to be done. I am grateful that I could participate in these processes and that I could see how much work it took for a bottle of wine to be made. I think it's important to see the big picture, and I'll do my best to pass on this knowledge to my children.
To what extent did your initial fears prove right?
I'm really thankful because I have great parents. Father is a no-nonsense and determined person, but he is also flexible and able to let young people shine. I never heard him slam his fist on the table and say "Andi, this will be so, end of story" – instead, he always gave a chance to my ideas as well. For example, if I wanted a wine of my own, I could go down to the cellar and compose it. He always allowed us to try our wings, and there was never any tension between us. Actually, our thinking is similar, and it might also help that it's a father-daughter relationship – although I never saw him behave differently from my brother. I love this job so much, partly because everything works so well and seamlessly within our family.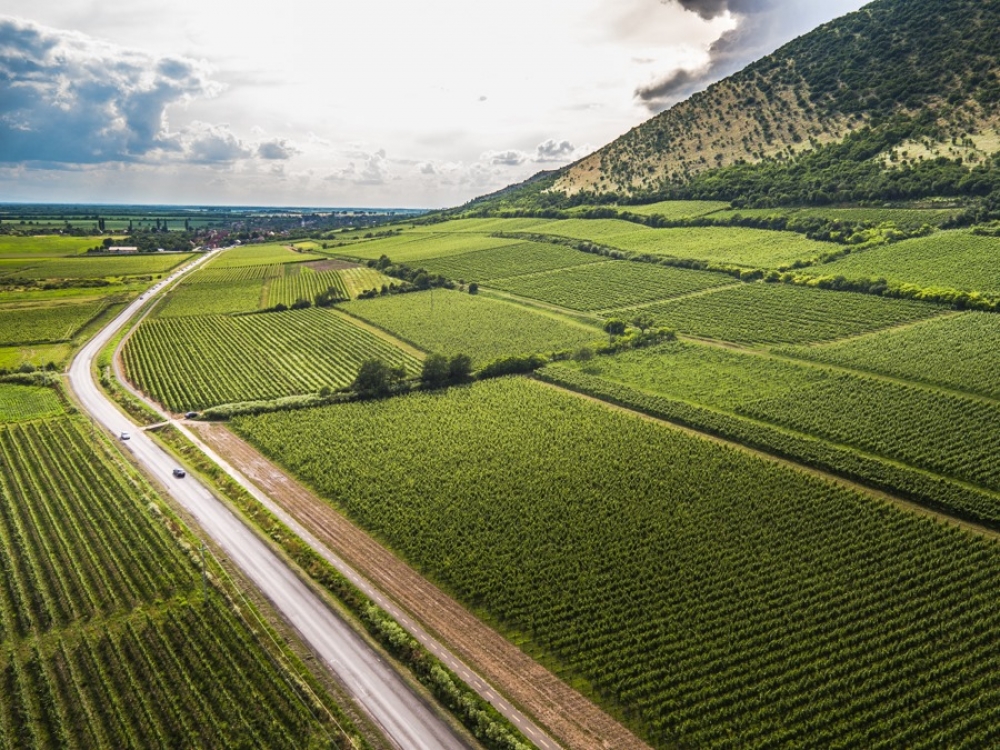 If I google your name, winemaking is not the first search result. Gere Andrea Skincare is becoming more and more widely known. Where did the idea of cosmetic products come from?
After several years of experimenting, we started to process grape seeds in 2010: we make grape seed oil and meal. We've read up on a lot of research about the beneficial effects of grape seeds on the skin, and that's why we started to think along this line. All the material that goes into our products is highly valuable: creating top-quality wines, set as our goal, requires top-quality grapes. And if we give such special treatment to grapes, we'll get grape seeds with a richer content of nutrients and active substances – and this gave rise to the idea of trying them out as an ingredient of cosmetic products.
We've been considering premium products from the very start. We had already been using our ingredients in the wellness section of the hotel, mixing the products locally. But our guests were so happy with them that more and more of them wanted to take some home, which was a great motivation for us to start this product line. I found a developer in Switzerland who could create the quality envisioned by us: we wanted to offer a Gere interpretation of the versatility of grapes in cosmetic products, too. Of course, this is a whole different market segment, where we don't plan to grow any further – and my special favourite will always be wine. At the same time, I enjoy making contact with different types of people along this line, as this is sort of the female aspect of grapes and wine, which adds some colour not only to the Gere portfolio but also to my own soul.