Parcel Stories: Szent György-hegy (Szent György Hill) – The Land of Dragons
2022.06.07.
Buttes are guardians of ancient geological history. The current form of the Balaton Uplands started to take shape about 260 million years ago.
Over time, layers of basalt and basaltic tuff were deposited from a series of volcanic eruptions, and as the Pannonian sediment was eroded around them, the areas protected by basalt caps emerged from their surroundings, testifying to the old surface by their height. These hills are excellent destinations for hiking, and due to the volcanic activity, they provide great soil for grapes. One of them, Szent György-hegy (Szent György Hill), allegedly named after the vanquisher of the dragon that once terrorised the inhabitants of the area, has become particularly popular in the last years.
Towards the Chapel
As you take the winding path up to the chapel called Lengyel-kápolna, its yellow paint is easy to spot on the side of Szent György-hegy (a lower, hiker-friendly hill next to the Badacsony). You find a cluster of cellars operated by excellent winemakers of the Badacsony wine district. István Bencze (Bencze Családi Birtok winery) has lived on the hill for a few years, having swapped a programmer's career for winemaking. Today he cultivates 20 hectares of land and operates a wine shop open all year and an accommodation facility. He is an experimentative weirdo who cultivates his vineyard using a biodynamic-holistic approach, which means that in addition to avoiding the use of any chemicals in grape production and winemaking, he even aligns each operation to the current position of the stars. Unusually, besides his Riesling and Furmint plantations, he also cultivates Pinot Noir and Chenin Blanc, and his assortment naturally includes pét-nat wines, too.
Almost opposite his place, there is the Szászi Birtok winery. Endre Szászi is no newcomer here, as he was born in nearby Szigliget, and as a child, he frequently roamed the hill. He says he founded his winery as early as the last century: he has been making wines here since 1999. The winery is completed by a wine shop and a restaurant, and he even offers accommodation in a renovated press building. Szászi Birtok has become primarily famous for its excellent Olaszrizling wines, but today its extended portfolio includes not only many indigenous white varieties but also wines made from blue grapes.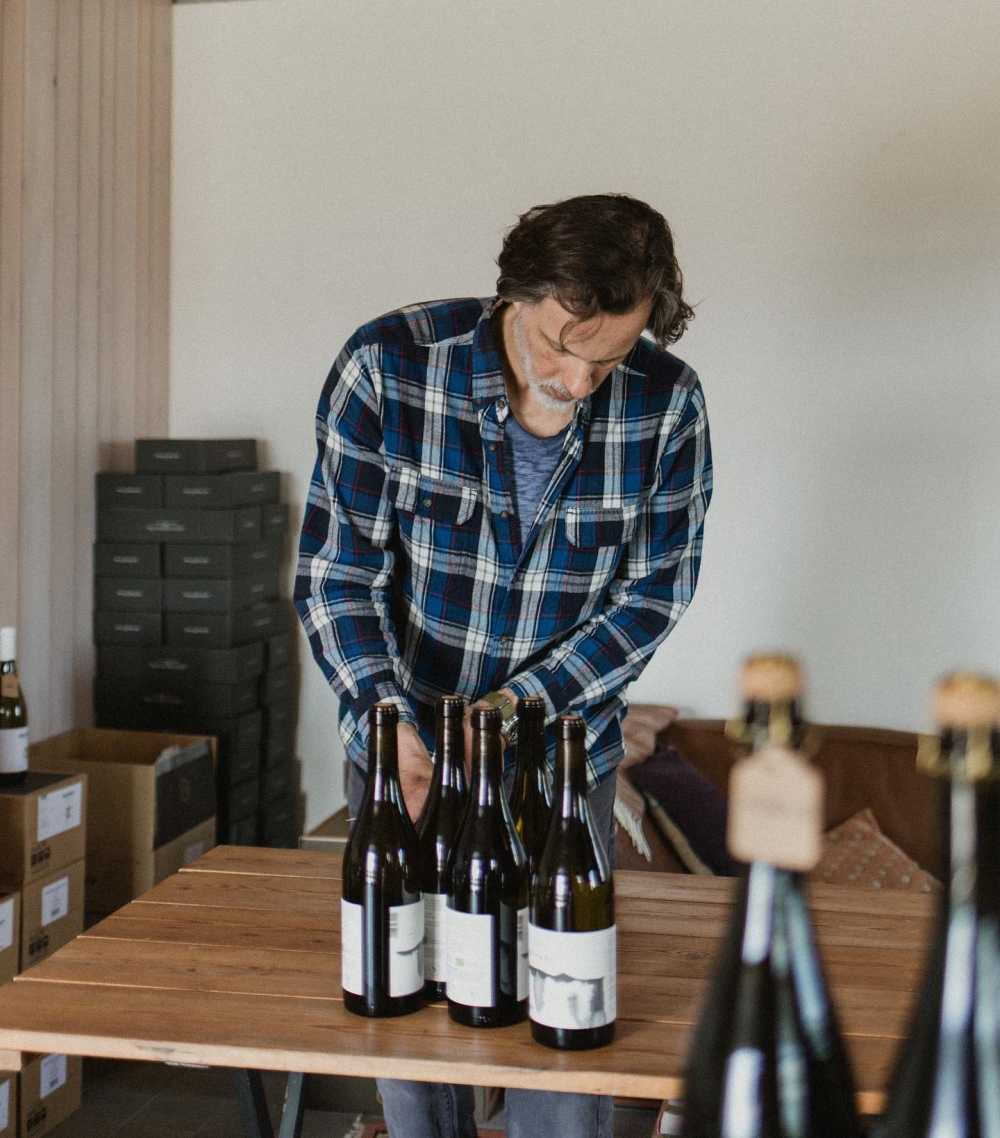 Róbert Gilvesy (Gilvesy Pincészet winery) came from Canada and found his home right next to the Lengyel-kápolna. His parcel variety wines, coming from an eco-cultivation, allow us to taste the differences in grapes harvested from different locations on the hill, but his sparkling wine and his white blend named George are also worth a try. The foundations of his winery of surprisingly modern design were laid around 1680 by the Lengyel family, builders of the Tarányi press building and the Lengyel-kápolna mentioned above (at least as the name is concerned); however, it received its present shape in 2012. The cellar has not only traditional steel tanks and barrels, but also flex cubes, as Róbert, always experimentative, keeps searching for new tastes in wines.
Climbing upwards from the chapel, loads of experiences await: you won't be disappointed by the panorama, and there are many small wineries worthy of a visit, such as Nyári Pince or Bajnóczy Pince, a true gem waiting to be discovered.
Tracking Down Boutique Wineries
It pays off to leave the main road, as the hill has much more treasure in store. Csaba Török also embarked upon the hard journey of life in another profession, but then he fell in love with wines and the amazing slopes of Szent György-hegy, founded his winery with a grape plantation over 2 hectares, and named the vineyard and winery after its size 2HA Szőlőbirtok és Borászat. Although his assortment includes Olaszrizling and Szürkebarát as well, he entered Hungary's wine map with an unusual decision: a rebellious winemaker, he brought blue grapes to the hill, namely Sangiovese, an Italian variety. This wine has since become history and even a standard: it features at the winery and in wine shops by the name Tabunello, and the variety has since made its debut as a sparkling wine as well. Csaba, however, doesn't settle for only one weirdo wine, so today he also grows Cabernet Franc and Syrah on the hill. Real wine enthusiasts should also try his Bordeaux blend bottled by the name Courage, which is the top wine of his winery.
Áron Molnár is Csaba's neighbour and friend who moved to the hill with his wife of Latvian origin, Karina Vissonova. Each and both of them have an adventurous history. London, India and Copenhagen had played an important role in their careers, until they found their home under the basalt organ pipes. In their apartment restaurant, open from the start of warm weather until the end of September, they serve dishes based on Indian cuisine. But, of course, they also have wines: these are offered for sale by the name PAP Wines. They harvest from nearly three hectares, and just like the others, they also make their wines unfiltered, with the least possible intervention.